---
Amour Noir Tooth Polish
Luxury & Innovation
✅ RECOGNISED WORLDWIDE

- The most widely recognised Charcoal based tooth-polish in the world, over 1 million sold worldwide.

✅ IMMEDIATE IMPACT

- The polish will, within the first few uses, retain the tooth's original colour and remove stubborn stains whilst not damaging the tooth enamel.

✅ STAIN REMOVING

- Stained teeth from smoking, coffee or general bad eating habits over the years? This product is perfect for you.

✅ PLAQUE REMOVING

- Looking to remove plaque and get pearly teeth? Within just a few weeks you will see a drastic improvement in the whiteness of your teeth.

✅ PREMIUM INGREDIENTS

- We combine a list of rich completely natural ingredients to get the perfect formula for our tooth polish.

✅ TASTE

- Wonderful taste, unlike many charcoal based tooth-polishes.

✅ANIMAL CRUELTY FREE

- At Amour Noir our products are not tested on animals.

✅ NO HIDDEN INGREDIENTS

- 100% Natural and suitable for Vegans.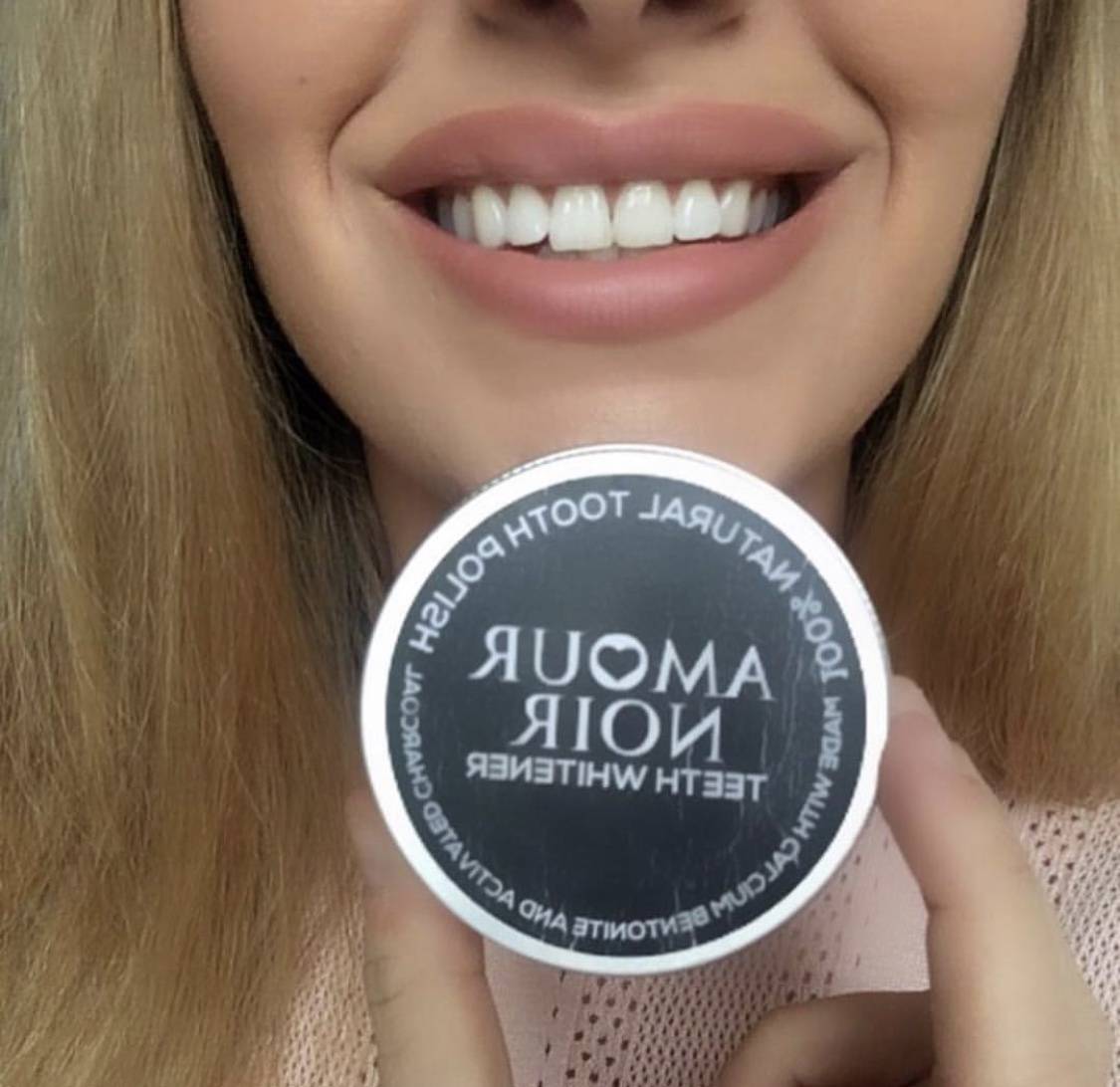 Our signature and trusted Teeth Whitener is 100% natural, non abrasive and proven. The activated charcoal works to remove surface stains that your everyday toothpaste can't by absorbing bacteria and general produce from the tooth's surface.
Of-course there are hundreds of teeth whiteners but please do your research on our product, thousands of happy customers all over the world.
Depending on how sparing you are, you will get a minimum of 40 and a maximum of 60.
Dab the tooth-polish into the jar and brush accordingly, use as frequently as you wish in conjunction with your everyday tooth polish.
---
---
Premium grade Activated Charcoal
Activated Charcoal holds valuable natural adhesive qualities that help remove tough surface stains, it also holds anti bacterial properties which in time would help kill bad breath toxins.
This common abrasive helps remove plaque, debris and surface stains. Abrasives, combined with the motion created by your toothbrush, clean the teeth, this is the reason your teeth feel so smooth after brushing.
Bentonite Clay binds to unhealthy substances in your mouth and helps to remove them before you swallow them and become sick. Because of it's antibacterial properties, it has been used in natural toothpastes and even mixed with water and used as a daily rinse.
Activated Charcoal, Calcium Carbonate, Bentonite Clay, Menthol